Specializing in Real Estate Development, Consulting, and Project Management
Halcon Companies, LLC in Powhatan, Virginia is an umbrella company consisting of Halcon Properties, LLC and Halcon Development, LLC. Over the years, our developers have successfully built a good reputation in the industry.
We focus on consulting and real estate development services. Additionally, we provide consulting services to developers who need assistance developing apartment communities and securing financing for them.
We can identify markets and land while working with local government to acquire the necessary entitlements. Our team coordinates the development with the various development team members including:
Expertise You Can Count On
Our team is more than capable of securing financing for your multifamily development project. We are also skilled at developing low-income housing tax credit (LIHTC) and tax-exempt bond multifamily properties in the Carolinas and Virginia.
We are also experienced in full-service development consulting. Whatever your needs may be, you can expect us to be there for you every step of the way.
Collaborating to Better Serve Our Clients
We take pride in our strong relationships and networks in place. Our company collaborates with both new and experienced professional developers. We also work with for-profit and nonprofit organizations.
In addition, we assist local governments and housing authorities with their development goals.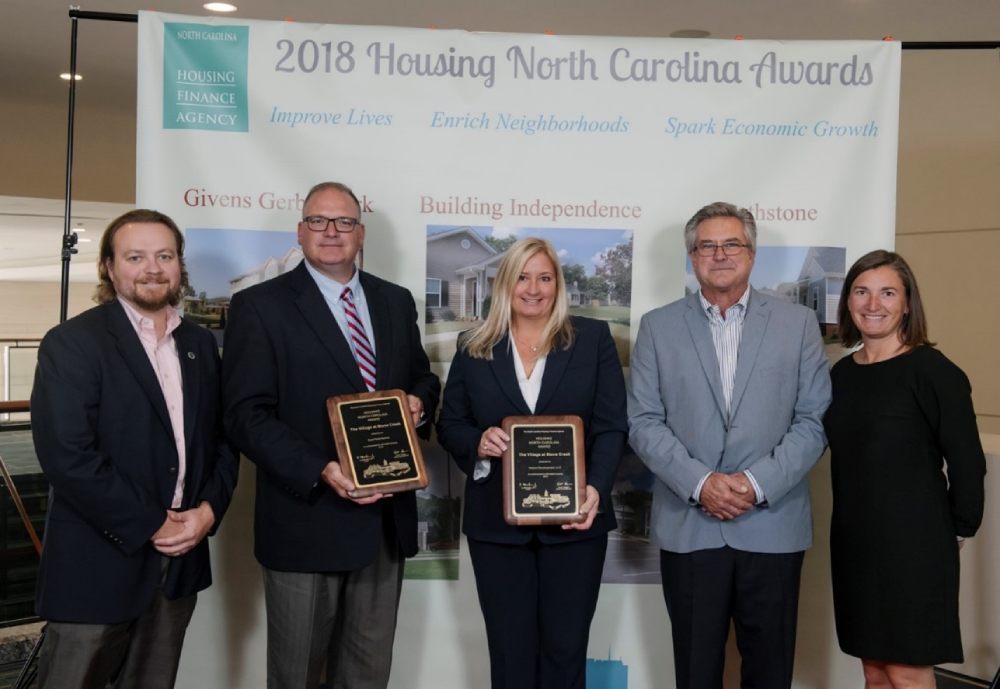 Award Winning Development Company!
From Left: The City of Asheboro representative, Mark McCloskey With East Point Homes, Traci Dusenbury Tate With Halcon Development, James Ross With Ross Deckard Architects, and Kelly Otis With Blanco Tackabery Combs, PA.
Our team won the "Housing NC Award" for our achievement in affordable housing for the redevelopment of The Village at Stone Creek in 2018. We received the award from the NC Housing Finance Agency at the Annual State Housing Conference.
Holly Woods at Sunset Lake (2016 USDA Rural Development Community Award Winner!)
Rivers Edge at Elizabeth Crossing
Rivers Landing (Herrington Acquisition Rehab)
Rivers Retreat at Elizabeth Crossing (Independent Senior Living Adjacent to the Rivers Edge)
Rockwood at Oliver's Crossing
Villas at Forest Park (Independent Senior Living)
Villas at Logan Gardens (Independent Senior Living)
Arbors Park (Independent Senior Living Quadraplex Cottages)
Riverstone Crossing at The Neuse (Coming in 2024)
Contact us for more information about our services. We'll be more than happy to answer your questions.